Littleton Water and Light maintains a staff of professional, service oriented employees dedicated to providing safe, reliable, economical energy and water for our customers while enhancing the quality of life and assuring a clean and healthy environment.
Annual Financial Audit & Report on Internal Controls when accepted by Commissioners are available upon request.
Commissioners' meeting will be held on Tuesday, November 21, 2023 at 1:00 p.m.
OFFICE HOURS:
Monday - Friday
6:30am - 3:00pm
Reduce your business's energy costs!
Small businesses in the LW&L service area may be eligible for low cost energy audits. Read more →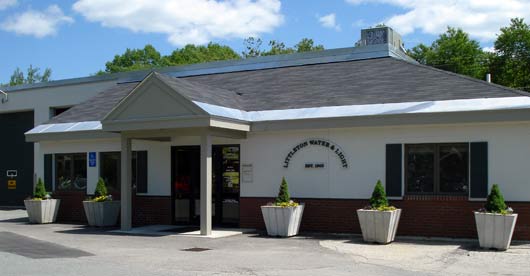 Littleton Water and Light supplies electrical power and water to 5500 customers. Littleton purchases wholesale electric power from suppliers through the New England Power Pool on a daily basis. Our high quality drinking water originates in the nearby White Mountain National Forest watershed.
Maintaining Littleton's Fire Hydrants

The Littleton Water System team keeps all 300 fire hydrants in Littleton safe and working all year round. Every year, they flush and check every hydrant to make sure all is in proper working condition. If they find one that is damaged, they replace it. Learn more about Fire Hydrants in Littleton, New Hampshire.
READ MORE →
Upgrading Littleton's Electrical System For The Future

You may have seen the Littleton Water and Light trucks around town fixing utility poles this summer. LWL has been busy replacing older poles around town, while improving the electrical system's reliability both for today and future growth.
READ MORE →